The Odissi Academy is registered in 2016 as a not-for-profit organization in Texas, with Public Charity status of 509(a)(2) of IRS of US Government, with IRS 501.c.3. Its main objective to promote Odissi culture, people, and art forms of Odisha through the teaching of its dance & music form, Odissi, to the younger generation. Orissa, is a state in Eastern India, is overflowing with rich heritage and culture, and our mission is to provide an outlet for that creativity for the rest of the world. The Academy is located in Houston, Texas, where many who are passionate about Odissi, will tell you that it is an amazing dance form, filled to the brim with grace, beauty, and finesse. To completely immerse students in the Odissi dance form, teachers from the epicenter of Odissi – Bhubaneswar, Odisha, taught by world-famous Gurus, Dancers, Choreographer from the land of Odissi, to annually come and conduct workshops and lessons for students, further connecting them with the incredible dance form.
Our Partners
We started our beginning in collaboration with Orissa Dance Academy, Bhubaneswar for the exchange of guru and students, and towards the spread of Odissi dance and culture since its founding in 1975. Under the wise guidance of Guru Padmashree Smt. Aruna Mohanty, the Academy has flourished and is now spreading Odissi dance and culture around the world. http://www.orissadanceacademy.org
Within a span of few years, Odissi Academy further collaborated with leading Gurus of Odissi and institutions in India, and enrich its portfolio of offerings in different versions/styles of Odissi.
In-Resident Guru:
2016 – 17: Guru Shri Yudhisthir Nayak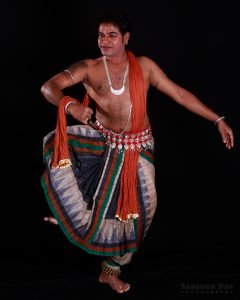 Guru Yudhisthir is a senior teacher at Orissa Dance Academy in Bhubaneswar. He is an acclaimed Odissi performer over the past 30 years. Started as a child Gotipua and Chhau Dancer, he transitioned into Odissi Dance. He learned Odissi under guidance from Guru Padmashri Gangadhar Pradhan, Smt. Aruna Mohanty, Shri Bichitrananada Swain, and Shri Manoranjan Pradhan. He has performed all over the world over the past three decades, with multiple visits to the USA including three performances in Houston. He also served as resident-guru at Odissi School in San Diego for 4 years.
2017 – 18, 2019-20: Guru Shri Bijaya Kumar Dash
Received initial training at Orissa Dance Academy, Bijaya took his Masters in Music (Odissi Mardala) from Utkal Sangeet Mahavidyalaya, Bhubaneswar. A Nritya Visharad from Prachin Kala Kendra as well as Alankar from Akhila Bharatiya Gandharva Mahavidyalaya Mandala, Mumbai, He is known for his perfection in chauka and bhangi postures. A senior teacher of the Orissa Dance Academy, he has staged performances in places like New Delhi, Kolkata, Mumbai, Bangalore, Faridabad, Guwahati, Nagpur, and Jaipur. He has also traveled abroad to participate in the 20th Spring Friendship Art Festival, Pyongyang, North Korea, 14th International Festival of Dance & Music, Thailand and perform in major cities of USA. He has also been honored with the Senior National Scholarship from the Ministry of HRD, Govt. of India.
2018 – 19: Guru Shri Prashanta Kumar Behera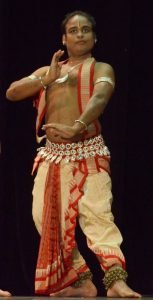 Started his classical dancer career as "Gotopua" dancer until the age of 12. Thereafter joined Orissa Dance Academy, and trained by legendary Guru Padmashree Gangadhar Pradhan. At the academy, he learned finest Odissi tips and rigorous training from Padmashree Smt Aruna Mohanty, Guru Manaranjan Pradhan, and Guru Bichitrananda Swain. He is one of the finest male Odissi dancers in current genre. A recipient of academic Gold Medal in Odissi dance from Utkal University, Bhubaneswar, and several regional awards. He is also a prominent Pakhaja/Mardala player. He served as an in-resident teacher in Houston, teaches Odissi Dance and Odissi Music (Pakhaja).
2019: Guru Shri Ramesh Chandra Jena
In the history of Odissi, no parallel can stand with Guru Ramesh Jena. In this era, he is the most experienced male Odissi dancer, teacher, choreographer, stage light & sound designer, and the finest Pakhaja/Mardal player. He started his Odissi journey through Gotipua dancer since the age of 5 in 1975.
Another significant attribute of Ramesh, he was trained by two Odissi stalwarts Guru Kelucharan Mohapatra and Guru Gangadhar Pradhan.
A recipient of Senior National Scholarship from the Ministry of HRD, Govt. of India. A visiting lecturer at Auroville, and Center for World Music, USA. Ramesh is an 'A' grade artiste by the Department of Culture, India's central government, and impaneled artiste of Indian Council of Cultural Relation. Including a combination of masculine charm and stylized form, he captivates the audience by his supple body movements. Extensively traveled to the USA, South Africa, France, and other European countries, China and Hong Kong.
He also excels in stage designing and lighting, always helps prominent Odissi artists, Guru Aruna Mohanty, Smt. Madhusmita Mohanty, Guru Sharmila Biswas, and many more.
Directors:
Mary Renee George (Director: 2020-, President: 2018-20, Vice President: 2016-18)
A dedicated lover of Indian dance and culture, she is involved in the promotion of Indian classical dances, Bharatnatyam, Mohiniyattam, and Odissi in Bangalore, India, and Houston, Texas. She is a senior Clinical Child Psychologist and Asst. Professor at Baylor College of Medicine.
Sarita Das (President: 2020-, Vice President: 2018-20)
Sangeeta Saikia (Vice President: 2020-, Secretary: 2018-20)
Liga Vildere (Director: 2018-)
Valerie Mayer (Director: 2018-)
Valerie Mayer was born and raised in Lima, Peru. Upon graduating with a B.S. in Communications from the University of Lima, she worked 19 years for the South American advertising industries in Peru, Chile, Argentina, and California, as a broadcast producer. In 2007 she joined Lopez Negrete Communications in Houston TX– one of the largest and most influential Hispanic agencies in the US. Her passion and a deep interest in Social Communication, and her curiosity for the advertising human ingredient lead her to re-engineer her profession. By 2008, Valerie was unfolding her skills as Spanish Consecutive Interpreter working for Masterword Services Inc. and Accessible Signs, servicing all the major hospitals and institutions, such as Hermann Hospital, Saint Joseph Hospital, Woman's Hospital, Texas Children's Hospital, Texas Department of Family and Protective Services, and the Office of Immigration and Refugee Affairs, just to name a few. Valerie is a CMI Spanish and the Supervisor for the Language Assistance Department at MD Anderson Cancer Center at the Texas Medical Center in Houston, TX. Currently, Valerie is the Medical Interpreter for the Blue Bird Clinic for Pediatric Neurology at Texas Children's Hospital. She is an active member of TAHIT, HITA, ATA, NCIHC, IMIA, and has participated as guest speaker for the course for Medical Interpreters at the Houston Community College for Health Care Providers Coleman College from 2013. Besides interpreting, her husband and she are photographers, music lovers, and have very active participation in attending to different cultural events around Texas and Mexico. Valerie is much honored to be part of the organization which promotes the beautiful classical Indian Odissi Performing Arts.
Anuranjita Nayak (President: 2016-2018, Director: 2016-)
Anuranjita Nayak started learning Odissi at a very young age in her home state of Orissa, yet due to higher education and a professional career, she had to let go of the dance. But she resumed learning Odissi from Guru Swati Mahalaxmi in Florida. She is currently working happily as a Pediatric Neurologist and Epileptologist, with Texas Children's Hospital.
Siddhartha Nayak (Director: 2016-)
A dedicated community worker, and a philanthropist with a focus towards helping lower-income sections of society through job and education in his home country India. Helped in an organization of Odissi shows Rudrakshya-2008, Gatha Odissi-2013, and Odissi & Yoga-2014 in the US. Through Odissi Academy, he is aiming at encouraging better financial opportunities for budding Odissi Gurus from India to teach state of the art Odissi here in the US which ultimately helps sustain this ancient dance form. He is an entrepreneur and management consultant by profession and runs Visual Communication Consulting business in Houston.
We are a 100% not for profit organization, registered with the Secretary of State, the state of Texas, and the Internal Revenue Service of Federal Government of the United States of America. IRS charter with 501.c.3 to Odissi Academy.